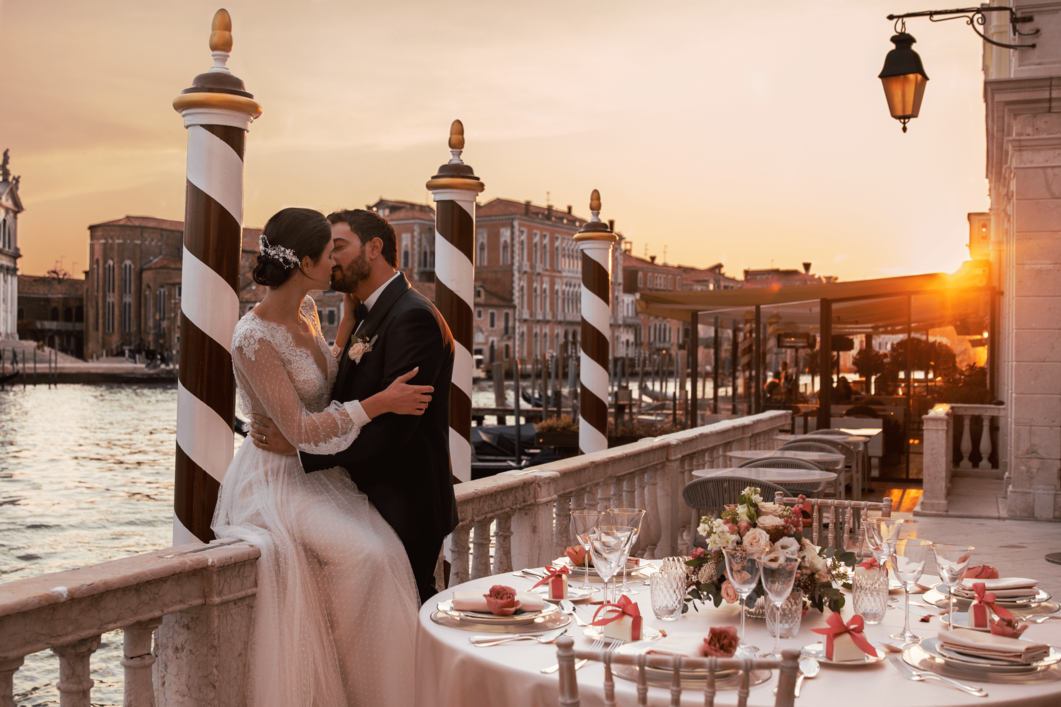 Choosing to celebrate your wedding in Venice doesn't simply mean deciding to get married. It also means printing in your memory the experience of a fairy tale from the past, in a city that is an absolute work of art, from any point of view.
Venice is unique. It's one of the most sophisticated and romantic cities in the world, and offers an infinite amount of wonderful views to admire and take hundreds of photographs of.
But as the famous collector Peggy Guggenheim once said, it's at sunset that the city on water gives its best:
"
"If there is anything that can compete in beauty with Venice, it is the reflection of the city on the Grand Canal at sunset."
Peggy Guggenheim
Weddings are important events that involve our whole families and mean giving and treating ourselves to a memorable day in an exceptional location, where every detail is artfully studied and the day is marked by precise moments, from the actual ceremony to the big wedding reception.
To organize this Venetian wedding, this couple asked for support from the Nexa team, who specializes in luxury events and weddings in Venice. They recommended the exclusive The St. Regis Venice , a modern and refined luxury hotel overlooking the Grand Canal, recently also selected by Chiara Ferragni for her last stay in the lagoon.
The splendid terrace-garden on the Grand Canal (in front of the Basilica della Salute) and the combination of classic and contemporary elements in the furnishings immediately convinced the couple to choose this venue for their wedding.
The same synthesis between classicism and modernity guided the bride and groom in the choice of wedding rings: the new FOREVER rings with CHIMENTO's multi-size Size-Fit™ system.
A name, a promise. Of infinite love for each other, and of a perfect fit with these "magic" rings which offer a truly tailored fit and comfort like never before.
The revolutionary novelty of these rings, an exclusive CHIMENTO patent, consists in the fact that they adapt perfectly to the required size. For the first time, rings are capable of widening and tightening to perfectly wrap around your finger.
Thanks to Size-Fit™, CHIMENTO rings are more than just dazzling: they're also extremely comfortable. No more reasons not to wear them at all times, every day.
The splendid photos we're publishing were taken by the H4PH team of photographers, and portray the couple in a sublime Venice, unusually deserted and immersed in a dreamy and almost surreal atmosphere. Just like in a Monet painting.